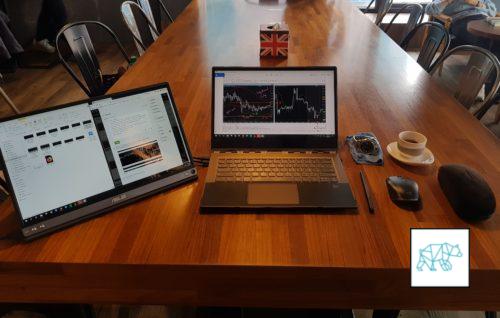 29 Jan

01292019 Trade Plan — another sluggish day

01292019 Trade Plan

Ter­mi­nol­o­gy (par­tial­ly made up by yours truly)
PA = Price Action
BO = Break Out
BD = Break Down
CAR = Con­firm As Resistance
CAS = Con­firm As Support
UKC = Upper Kelt­ner Channel
LKC = Low­er Kelt­ner Channel
TV = Tick Volume
WPP = Week­ly Piv­ot Point
DPP = Dai­ly Piv­ot Point
DR = Dai­ly Resis­tance (piv­ot)
DS = Dai­ly Sup­port (piv­ot)
WR = Week­ly Resis­tance (piv­ot)
WS = Week­ly Sup­port (piv­ot)
HL = High­er Low
HH = High­er High
LH = Low­er High
LL = Low­er Low
SD = Stan­dard Deviation
VWAP = Vol­ume Weight­ed Aver­age Price
AS = Asian Session
LS = Lon­don Ses­sion (EU)
NY = New York Ses­sion (US)
R/R = Risk to Reward
M2M = Move to Move
T2H = Trade to Hold
DT = DownTrend
UT = UpTrend
LTF = Low­er Time Frame
TTF = Trad­ing Time Frame
HTF = High­er Time Frame
Hypo = HYPOthetical
Per­son­al Checklist

| | | | | | |
| --- | --- | --- | --- | --- | --- |
| 5 pos­i­tive 1 negative | Fri | Sat | Sun | Mon | Tue |
| - | 1/25 | 1/26 | 1/27 | 1/28 | 1/29 |
| Beers night before | 2 | 6 | 10 | 6 | 0 |
| Time bed yesterday | 0:28 | 1:55 | 6:27 | 4:20 | 23:19 |
| woke up | 8:46 | 11:26 | 12:04 | 13:38 | 7:56 |
| Hours sleep | 8:18 | 9:31 | 5:37 | 9:18 | 8:37 |
| Awake | 1:17 | 1:20 | 0:47 | 1:31 | 1:23 |
| REM | 1:47 | 1:39 | 0:50 | 1:20 | 0:37 |
| Light | 3:59 | 4:45 | 3:08 | 4:31 | 5:26 |
| Deep | 1:25 | 1:47 | 0:52 | 1:56 | 1:11 |
| Sleep well? | 4 | 4 | 2 | 3 | 4 |
| Mela­tonin | 0 | 0 | 0 | 0 | 0 |
| Neg­a­tive thoughts? | 1 | 1 | 2 | 3 | 3 |
| Exer­cise yester(to)day | 3 | 3 | 3 | 3 | 3 |
| Grat­i­tude | 5 | 5 | 5 | 4 | 5 |
| Joy | 5 | 5 | 5 | 4 | 5 |
| Anger | 2 | 1 | 1 | 1 | 1 |
| Fear | 1 | 1 | 1 | 3 | 2 |
| Focus | 3 | 3 | 2 | 2 | 2 |
| Cof­fees today | 1 espres­so spread over 1 hours afternoon | 1 espres­so spread over 1 hours afternoon | 1 espres­so spread over 1 hours afternoon | 1TC in after­noon 1 scoop | 1 espres­so spread over 1 hours afternoon |
| Inter­mit­tent fasting | no | no | no | no | yes |
| Water L | 3 | 3 | 3 | 3 | 3 |
| Vit­a­mins | yes | no | yes | yes | yes |
| Cig­a­rettes | 10 | 10 | 10 | 0 | 0 |
Health review (for the past week)
How would you describe your over­all health?

I've been sleep­ing more so am feel­ing bet­ter late­ly. I still need to get on point with exer­cis­ing. My friend told me about a sim­ple work­out that only lasts 12 min­utes. I will do that every morn­ing from now.

How do you feel?

I feel OK but a bit on edge. I'm still hav­ing some neg­a­tive thoughts so I should be more care­ful today. Stick to your plan. When you wait for your set­up to arise you make mon­ey every time. Be patient. You're a fish­er­man. There's plen­ty to go around.

How would you rate it (1–5)?
The Big Pic­ture (dai­ly)
What hap­pened yes­ter­day? Where are the tech­ni­cal levels?

We start­ed the AS with a swing low that failed to reach the excess area and was a bear­ish sign. The rest of the ses­sion we inched low­er and broke through LIS area 53.25 with ease
Then dur­ing LS we con­tin­ued the decline and BD from prev low at 52.969 and spend the remain­der of the ses­sion pulling back to CAR the prev low and then dur­ing NY we drop hard to even­tu­al­ly 51.40 level
Intra­day Fundamentals
API report

Com­ing out today Jan­u­ary 29th

EIA report

Com­ing out tomor­row Jan­u­ary 30th
Intra­day Tech­ni­cal Analysis
HTF

Define con­text

Where were the overnight highs and lows?
Where is the LIS?

The LIS is around the 53 area

What didn't happen?

We didn't BD from HTF LKC yet

Where do you think it should go?

I think that even­tu­al­ly it will go down to find poten­tial sup­port around the 50 level

Where's the best R/R? Opportunities?

A failed swing high to LIS would present a good short­ing opportunity
A drop to prev low and reverse to test and poten­tial­ly BO from val­ue area

TTF

Dialling in on opportunities

Where are the areas of estab­lished "val­ue" and "excess"?

Val­ue is around 52.20 area
Excess around 53.60 area

Is there a shift in value/excess migra­tion? What is the cur­rent mar­ket con­di­tion? Are we trend­ing, balancing/range bound? Where are we in the trend range axis?

We are migrat­ing down a bit

What trade loca­tions among this struc­ture would l like to get involved in that will offer me the best R/R opportunities?

Failed swing high over the val­ue area could give a great short­ing opportunity
BD from val­ue area as well
Overex­tend towards LIS and then roll over

LTF

What has the Asian Ses­sion printed?

After the O/N bounced high­er from 51.40 lev­el the AS took us down to make a HL at 51.90 area
We then found resis­tance at 52.35 level
Trade Idea
Hypo 1 Short

BD from Val­ue area to prev low and then reverse

Entry area 52 level
PT prev low around 51.50

Hypo 2 Short

Overex­tend over 52.50 to near touch of LIS before rolling over

Entry around 52.50
PT 52.20
Stretch PT around 51.90, 51.50

Hypo 3 Long

BO from Val­ue area

Entry area around 52.50
PT around 53
Stretch PT around 53.50
My goals for the day (Dai­ly Report Card)
Define win­ning

Per­form well by EXECUTING play­book setups and be hap­py by doing what I love and under­stand­ing that I give myself over to the ran­dom­ness of the market
Read­ing the Tape
What is print­ing? Look for PA with high­er TV and S/R levels.

HYPO2 got in play before LS opened so I will look for a BD from val­ue before get­ting in
It looks like we might hold the Val­ue area
We are at the LTF 50MA and the TTF 50MA and might pos­si­bly BO
We might overex­tend into a failed swing high on the TTF and cre­at­ing a short oppor­tu­ni­ty but it looks still very much bull­ish so we might even­tu­al­ly go test LIS
We have what looks like a healthy UT on the LTF
T1 loss 7.8 ticks
PA act­ing a bit errat­ic. We did even­tu­al­ly go down from LTF UKC and bounced off the 50MA and VWAP and then straight up

We could pos­si­bly go test TTF UKC and 200MA and thus the LIS at 53 level

T2 win 5.2 ticks and 2.2 ticks
I'm glad I fol­lowed my gut and cov­ered my posi­tions since PA seems to have reversed. But again PA is mov­ing very slug­gish with­out sig­nif­i­cant moves

Thus I'm not sure if I will take anoth­er posi­tion or not
It looks like I won't be tak­ing any posi­tions anymore

As soon I said this PA tried drop­ping from LTF 50MA

Done trad­ing
Trade Man­age­ment
Explain what trade you put on (include price, SL, TP) and what your thoughts are dur­ing the trade
T1

Why? What do I see?

TTF

Where are we as opposed to the val­ue, excess and LIS areas?

A move away from Val­ue area around the 52.50 lev­el that was in HYPO2 so when a doji appeared at LTF UKC I took a short

What tech­ni­cal lev­el are we at?

LTF

Is LTF confirming?
What risk am I going to put on?
Entry: 52.457

SL
TP
Trade Man­age­ment

Cov­ered at 52.535
Loss 7.8 ticks
T2

Why? What do I see?

TTF

Where are we as opposed to the val­ue, excess and LIS areas?

Broke through TTF 50MA and VWAP and mov­ing away from Val­ue are and thought a long is warranted

What tech­ni­cal lev­el are we at?

Above the TTF 50MA and VWAP

LTF

Is LTF confirming?big sharp move up to LTF UKCand then a pull­back so took a shot. If we break the pull backs low I'm out around 52.50
What risk am I going to put on?
Entry: 52.579

SL
TP
Trade Man­age­ment

Cov­ered half when we showed loss of momen­tum to BO from swing high

If we BO I will be look­ing to add to position
We returned to prev entry point and I took anoth­er 10% risk think­ing the pat­tern is still valid. I'll be cov­er­ing at a loss if we break pre­vi­ous can­dle low
Cov­ered them all since I felt that PA wasn't mov­ing as quick­ly as I'd liked
P1 52.579

TPH at 52.637 win 5.8 ticks
TPH at 52.625 win 4.6 ticks

P2 52.609

TP at 52.631 Win 2.2 ticks
Trade Review
Did you let your trade play out or did you cov­er or stop out soon­er? If so, why?

I did well. I took my SL when it got hit. I under­stood that the trade had to go my way straight away and thus I set a very tight SL and took a min­i­mal loss.
Then when I took the oth­er trades I saw that PA was not behav­ing 'nor­mal­ly' and I cut them loose.

P/L for the day
| | | | | | | | | | |
| --- | --- | --- | --- | --- | --- | --- | --- | --- | --- |
| Open Time | Type | Size | Item | Price | S / L | T / P | Close Time | Price | P/L ticks |
| 2019.01.29 12:14:07 | buy | 2 | wti | 52.609 | 0 | 53.126 | 2019.01.29 12:19:07 | 52.631 | 2.20 |
| 2019.01.29 12:04:35 | buy | 1 | wti | 52.579 | 52.378 | 53.147 | 2019.01.29 12:18:06 | 52.625 | 4.60 |
| 2019.01.29 12:04:35 | buy | 1 | wti | 52.579 | 52.344 | 52.868 | 2019.01.29 12:11:29 | 52.637 | 5.80 |
| 2019.01.29 11:21:09 | sell | 2 | wti | 52.457 | 52.532 | 52.33 | 2019.01.29 11:22:07 | 52.535 | -7.80 |
| - | - | - | - | - | - | - | - | - | -0.40 |
Dai­ly Report Card
Define win­ning

Per­form well by EXECUTING play­book setups and be hap­py by doing what I love and under­stand­ing that I give myself over to the ran­dom­ness of the market
How accu­rate was my assess­ment of mar­ket context?

HYPO2 start­ed play­ing out but PA was so slug­gish that not much hap­pened after we went over the 52.50 level

How well did I man­age my phys­i­cal, emo­tion­al and cog­ni­tive states?

Focussing on play­book setups and think­ing in per­cent­ages has real­ly helped me stay calm
I can focus bet­ter now when it mat­ters because I start­ed using price alerts around the areas that I would tar­get and stalk for an opportunity

What did I do well?

I did well to under­stand that today's trad­ing was going to be dif­fer­ent because the PA was very slug­gish and can­dles had most­ly long bod­ies with almost no wicks and this indi­cates to me that's some­thing is going on which is not con­ducive to my trad­ing setups

What do I need to improve?

There was one trade that I could have tak­en but didn't since it didn't feel it fit my set­up well but turned out to be the biggest move of the ses­sion. I could have risked a small­er per­cent­age on that move to push myself beyond my com­fort zone a bit. The mar­ket con­di­tions were right I just felt the TTF wasn't giv­ing me the right sig­nal although the LTF kin­da did. I could have tak­en a chance here with like I said less risk put on.

What's one thing you learned today?
What's one thing I need to do more often?

Keep stalk­ing oppor­tu­ni­ties when they are in play

What's one thing I need to do less often?

No need to keep mon­i­tor­ing every tick move if my alerts aren't trig­gered. I know where my entry areas are and I should only focus on those