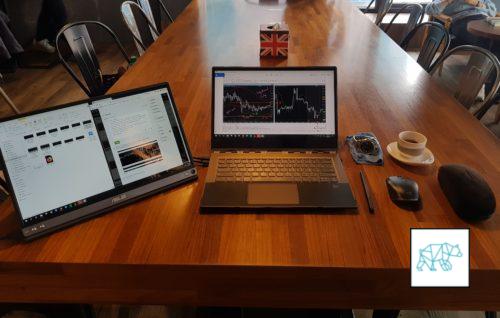 18 Feb

02182019 Monday — Chasing the market

02182019 Mon­day — Chas­ing the market

Ter­mi­nol­o­gy (par­tial­ly made up by yours truly)
PA = Price Action
BO = Break Out
BD = Break Down
CAR = Con­firm As Resistance
CAS = Con­firm As Support
UKC = Upper Kelt­ner Channel
LKC = Low­er Kelt­ner Channel
TV = Tick Volume
WPP = Week­ly Piv­ot Point
DPP = Dai­ly Piv­ot Point
DR = Dai­ly Resis­tance (piv­ot)
DS = Dai­ly Sup­port (piv­ot)
WR = Week­ly Resis­tance (piv­ot)
WS = Week­ly Sup­port (piv­ot)
HL = High­er Low
HH = High­er High
LH = Low­er High
LL = Low­er Low
SD = Stan­dard Deviation
VWAP = Vol­ume Weight­ed Aver­age Price
AS = Asian Session
LS = Lon­don Ses­sion (EU)
NY = New York Ses­sion (US)
R/R = Risk to Reward
M2M = Move to Move
T2H = Trade to Hold
DT = DownTrend
UT = UpTrend
LTF = Low­er Time Frame
TTF = Trad­ing Time Frame
HTF = High­er Time Frame
Hypo = HYPOthetical
Per­son­al Checklist

| | | | |
| --- | --- | --- | --- |
| 5 pos­i­tive 1 negative | Sat | Sun | Mon |
| - | 2/16 | 2/17 | 2/18 |
| Beers night before | 0 | 0 | 4 |
| Time bed yesterday | - | - | 1:07 |
| woke up | - | - | 8:25 |
| Hours sleep | - | - | 7:18 |
| Awake | - | - | 1:11 |
| REM | - | - | 0:35 |
| Light | - | - | 4:33 |
| Deep | - | - | 0:59 |
| Sleep well? | 2 | 3 | 3 |
| Mela­tonin | 0 | 1x | 1x |
| Neg­a­tive thoughts? | 1 | 1 | 1 |
| Exer­cise yester(to)day | 4 | 4 | 4 |
| Grat­i­tude | 5 | 5 | 5 |
| Joy | 5 | 5 | 5 |
| Anger | 1 | 1 | 1 |
| Fear | 1 | 1 | 1 |
| Focus | 2 | 3 | 3 |
| Cof­fees today | 1TC | 1TC | 1TC |
| Inter­mit­tent fasting | no | no | yes |
| Water L | 3 | 3 | 3 |
| Vit­a­mins | no | no | no |
| Cig­a­rettes | 5 | 0 | 0 |
Health review (for the past week)
Week­ly goal

I will do a 12-min work­out in the mornings

How do you feel?

I feel OK just not my sharpest.

How would you rate it (1–5)?
The Big Pic­ture (dai­ly)
What hap­pened yes­ter­day? Where are the tech­ni­cal levels?

Last Fri­day we held the LIS as sup­port and start­ed a UT break­ing out from excess and prev high inton new highs dur­ing NY
Intra­day Fundamentals
Intra­day Tech­ni­cal Analysis
HTF

Define con­text

Where were the overnight highs and lows?
Where is the LIS?
What didn't hap­pen? Where do you think it should go?

We broke to new highs and we might be due for a HTF PB

Where's the best R/R? Opportunities?

Prev high hold as resis­tance and PB down to excess area

TTF

Dialling in on opportunities

Where are the areas of estab­lished "val­ue" and "excess"?

Excess 55.70 area
Val­ue 54.75 area

Is there a shift in value/excess migra­tion? What is the cur­rent mar­ket con­di­tion? Are we trend­ing, balancing/range bound? Where are we in the trend range axis?

Mar­ket is trend­ing and might be due for a PB

What trade loca­tions among this struc­ture would l like to get involved in that will offer me the best R/R opportunities?

Prev high hold to short into excess area
Long around excess area to prev high area

LTF

What has the Asian Ses­sion printed?

AS has been rang­ing with one spike to 56.50 but got pushed back down again. Range is between .10 and .50
Trade Idea
Hypo 1 Short

BD from prev high into excess area

Entry around 55.95
PT around 55.75
Stretched PT 55.30

Hypo 2 Long

Hold Excess area as sup­port into prev. High to set­up a poten­tial BO lat­er on the day

Entry around 55.75 excess area
PT prev high 56.20 area
Stretched PT 57.20

Hypo 3 Short

BD from excess area into LIS

Entry around 55.60
PT 55
Stretched PT around 54.75
My goals for the day (Dai­ly Report Card)
Define win­ning

Per­form well by EXECUTING play­book setups and be hap­py by doing what I love and under­stand­ing that I give myself over to the ran­dom­ness of the market
Read­ing the Tape
What is print­ing? Look for PA with high­er TV and S/R levels.

Stalk­ing a pos­si­ble long accord­ing to HYPO2

We might overex­tend dur­ing the open­ing dri­ve to the TTF VWAP/UKC/Prev high or we might BD from there in which case HYPO3 will be in play

Seems we have hit Val­ue high and bulls are get­ting in but not con­vinc­ing­ly yet

PA got pushed down hard and I went short
T1 32 tick loss
4:35: we seem to be want­i­ng to BO from prev high after we had a PB to TTF VWAP/UKC/Prev High
Trade Man­age­ment
Explain what trade you put on (include price, SL, TP) and what your thoughts are dur­ing the trade
T1

Why? What do I see?

TTF

Where are we as opposed to the val­ue, excess and LIS areas? What tech­ni­cal lev­el are we at?

We had 2 doji can­dles on TTF and looked to be drop­ping and I want­ed to get in early

LTF

Is LTF confirming?

On the open we moved down and the next can­dle failed to move back up. Actu­al­ly it pushed back up to VWAP and then dropped and almost closed at its bot­tom giv­ing me a bear­ish outlook

What risk am I going to put on?
Entry: 56.357

SL
TP
Trade Man­age­ment

After we pulled back to VWAP I added to my position

Entry 56.415
SL 56.544
TP 56.125

Both got stopped out at 56.546 at a 32 tick loss
Trade Review
P/L for the day

Lost 1.92% of account size, 96.17% of intra­day loss
Dai­ly Report Card

Date:
2/18/2019
Week­ly Goal
Exe­cute play­book trades
PNL (%)
-1.92%
Com­bined Score
45
Process Report Card (10 each)
Per­for­mance Report Card (10 each)
8
Pre-mar­ket routines
8
Hypos
3
Ses­sion PECS
2
Real-time analy­sis
5
Trad­ing the process
2
Trade selec­tion
9
Dai­ly review
2
Trade Exe­cu­tion & Mgmt.
5
Progress toward Week­ly goal
1
Risk Adjust­ed Returns
30
Total
15
Week­ly Goal

Per­form well by EXECUTING play­book setups and be hap­py by doing what I love and under­stand­ing that I give myself over to the ran­dom­ness of the market

Review

I lost 96.17% of my intra­day loss which is 1.92% of my total account

Now let's talk about how I lost this. Main prob­lem was I was chas­ing the mar­ket and I know why I was chas­ing the mar­ket. I didn't stick to my plan. I was stalk­ing a long and for some rea­son I took a short when we got below a tech­ni­cal lev­el. On the open­ing dri­ve PA dropped on the LTF and TTF was show­ing 2 doji can­dles after a ral­ly so I short­ed. PA went against me and think­ing the con­text was still valid I kept a wide SL and this got tak­en out. On top of that I added to my posi­tion when I thought there was a PB, adding to my risk and thus los­ing more when they both got stopped out.
Then PA looked to con­tin­ue the ral­ly so I went long, not tak­ing into account that I was enter­ing at a very low R/R area and this also went against me and I got stopped out. Then I con­tin­ued to chase the mar­ket by pock­et­ing some scalp trades which I know is a red flag for me.
The under­ly­ing issue of today's mis­takes is very sim­ple. I was not men­tal­ly sharp to fol­low my plan and thus I chased the mar­ket and over­trad­ed. One good thing was that I stayed with­in my intra­day-loss limit.
So how will I improve on this so to decrease the like­li­hood I'll repeat this same mistake?

I can't expect to come into the mar­ket half-assed after not rest­ing enough on the week­end. Thus, sur­prise sur­prise, I need to get my week­ends under the con­trol. I believe that this in and of itself will help me lev­el up as a trad­er and I will need to make adjust­ments. To give myself a fair shot I will only focus on trad­ing for the next month. On week­ends I know I can work more on trad­ing, doing more back­test­ing, review­ing trades, review­ing play­book setups. Hell, with incor­po­rat­ing a new approach like mar­ket pro­file I should go back and redo my play­book setups with this in mind. Got some work to do. To be hon­est I'm not too bummed out about today since I am learn­ing so much more and so much more accel­er­at­ed than I was before. Learn­ing more about trad­ing and even bet­ter, myself.
Addi­tion­al: I have been keep­ing a list of things that set me off so that I know that I am a bit aggra­vat­ed dur­ing the day. Today, a trad­er from the com­mu­ni­ty reached out and gave some good point­ers on inter­mit­tent fast­ing and how it affects the men­tal state that I will take into con­sid­er­a­tion and include in my prep work. I will be bet­ter tomor­row than I am today.

How accu­rate was my assess­ment of mar­ket context?

HYPO2 60%

Yes we did hol prev high as sup­port but there was no con­tin­u­a­tion to the move

How well did I man­age my phys­i­cal, emo­tion­al and cog­ni­tive states?

I failed mis­er­ably as stat­ed above in the review

What's one thing you learned today?

That I should respect the mar­ket more. Be in the right state of mind and body before even think­ing of engag­ing the mar­ket. The mar­ket is always right.

What's one thing I need to do more often?

Focus on improv­ing my prep work and review­ing setups.

What's one thing I need to do less often?

Trade after mak­ing mis­takes. Only take 4 trades. Any­thing more than that I am scalp­ing and that is not what my setups are for.
Feed­back?
Any ques­tions or feed­back you might have please feel free to leave a com­ment or con­tact me directly.