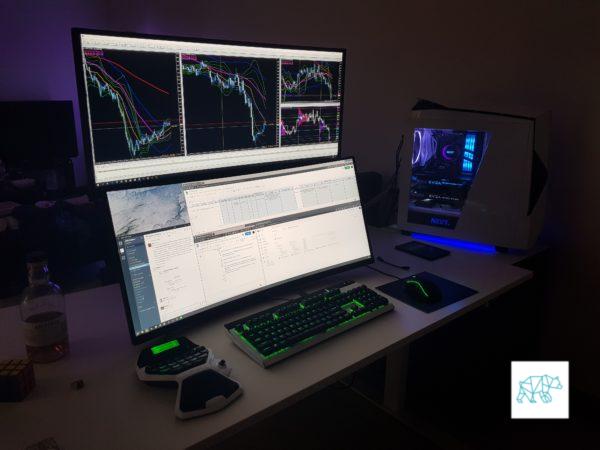 09 Aug

09082019 Friday — Trade Plan & Journal

09082019 Fri­day — Trade Plan & Journal

Ter­mi­nol­o­gy (par­tial­ly made up by yours truly)
PA = Price Action
BO = Break Out
BD = Break Down
CAR = Con­firm As Resistance
CAS = Con­firm As Support
UKC = Upper Kelt­ner Channel
LKC = Low­er Kelt­ner Channel
TV = Tick Volume
WPP = Week­ly Piv­ot Point
DPP = Dai­ly Piv­ot Point
DR = Dai­ly Resis­tance (piv­ot)
DS = Dai­ly Sup­port (piv­ot)
WR = Week­ly Resis­tance (piv­ot)
WS = Week­ly Sup­port (piv­ot)
HL = High­er Low
HH = High­er High
LH = Low­er High
LL = Low­er Low
SD = Stan­dard Deviation
VWAP = Vol­ume Weight­ed Aver­age Price
AS = Asian Session
LS = Lon­don Ses­sion (EU)
NY = New York Ses­sion (US)
R/R = Risk to Reward
M2M = Move to Move
T2H = Trade to Hold
DT = DownTrend
UT = UpTrend
R = Range
LTF = Low­er Time Frame
TTF = Trad­ing Time Frame
HTF = High­er Time Frame
HHTF = High­er High Time Frame
Hypo = HYPOthetical
AD = Accu­mu­la­tion Distribution
Health review
Week­ly goal

No rice and noo­dles except for the first meal

How do you feel? Have you recent­ly had a break of dai­ly rou­tine (like a trip)? Did you have 2 (or more) nights of insuf­fi­cient sleep?

I feel good even though I feel like I didn't sleep too well.

How would you rate it (1–5)? 1/2 = don't trade 3= quar­ter posi­tion 1st 12 2nd 2, 4= half posi­tion = 1st 25 2nd 5, 5= full posi­tion = 1st 50 2nd 10

5= full posi­tion = 1st 50 2nd 10
Mar­ket Prep

Intra­day Tech­ni­cal Analysis
HHTF

What is the mar­ket narrative?

HTF

Lev­els

Prev. High 52.983
PVAH 52.686
PPOC 52.486
PVAL 52.161
Prev. Low 51.826

What is the mar­ket nar­ra­tive and bias?

HTF Squeeze show­ing bounces pos­si­ble sup­port at the base of the bounces, trade idea inval­i­dat­ed with breach of the same level
Long biased because of the bounces

TTF

Does the Asian ses­sion show clues that align with mar­ket narrative?

Exhaust­ed TTF R 200MABDF pos­si­bil­i­ty for upside from here on
Trade Idea
Hypo 1 Long

HTF Squeeze 1.5 SD CAS
Entry around 52.50
Tar­gets 52.70, 52.90, 53.20

Hypo 2 Short

HTF Squeeze BD
Entry around 52.10
Tar­gets 51.90, 51.60

Hypo 3 Rotational
My goals for the day (Dai­ly Report Card)
Define win­ning

Only trade A/A+ trade ideas
For­ward test exper­i­men­tal trades
Read­ing the Tape
What is printing?

17:05

HTF

What is the mar­ket narrative?

TTF

TTF R Over­bought posi­tion pos­si­ble reversal

Bias

Short on short-term but need more confirmation

Oppor­tu­ni­ty (if any)

What set­up am I going to stalk?

TTF R over­bought VWAP BD

17:35

HTF

What is the mar­ket narrative?

TTF

I've seen this pat­tern before and if I remem­ber cor­rect­ly (which I vague­ly do) this is going to have some more upside pos­si­ble BO from HTF UKC

Bias
Oppor­tu­ni­ty (if any)

What set­up am I going to stalk?

18:05

HTF

What is the mar­ket narrative?

Same but since we haven't real­ly test­ed sup­port it looks like more upside from here

TTF

TTF R AD in Over­bought posi­tion with pos­si­ble U TC at VWAP
Since I am not entire­ly sure about this par­tic­u­lar nar­ra­tive I am going to doc­u­ment the ses­sion and stay out of any trades unless 90% con­fir­ma­tion of move

Bias
Oppor­tu­ni­ty (if any)

What set­up am I going to stalk?

Stay­ing out for the moment

18:35

HTF

What is the mar­ket narrative?

Move to HTF UKC pos­si­ble BO

TTF

TTF U TC @ VWAP with steep move up, exhaustion?

Bias

Long if there is con­tin­u­a­tion oth­er­wise a pos­si­ble HTF R UKCCAR and bias to short in that case

Oppor­tu­ni­ty (if any)

What set­up am I going to stalk?

Need more con­fir­ma­tion but pos­si­ble HTF R UKCCAR if we break down from 1.0 SD, but will have to wait for the back­side and not trade the front

19:05

HTF

What is the mar­ket narrative?

HTF Squeeze BO pos­si­bly set­ting up for a PB

TTF

Dying off of momen­tum just below HTF200MA could be just a PB but we'll see.

Bias
Oppor­tu­ni­ty (if any)

What set­up am I going to stalk?

Pos­si­ble TTF U TC @ VWAP

19:35

HTF

What is the mar­ket narrative?

We have the PB to HTF UKC how­ev­er TTF is show­ing a breach of VWAP and there­fore I lost con­fi­dence in more upside from here on.

TTF

Brach VWAP gonna wait for either a BD from VWAP + PB to go short for long I am uncer­tain at this point

Bias

Not too con­vinc­ing­ly clear but slight­ly short

Oppor­tu­ni­ty (if any)

What set­up am I going to stalk?
HTF UKC BO +PB or HTF R Overbought
Dai­ly Report Card
Trade Idea
Hypo 1 Long

HTF Squeeze 1.5 SD CAS
Entry around 52.50
Tar­gets 52.70, 52.90, 53.20

Hypo 2 Short

HTF Squeeze BD
Entry around 52.10
Tar­gets 51.90, 51.60

Hypo 3 Rotational








Dai­ly Report Card








Date:
8/9/2019








Week­ly Goal
Exe­cute A+ / A setups






Com­bined Score
100








Process Report Card (10 each)


10
Ses­sion PECS


10
Hypos


10
Mar­ket Prep


10
Dai­ly review


10
Progress tow. week­ly goal


50
Total












Per­for­mance Report Card (10 each)
100%
10
Real-time analy­sis
1/1
10
Setups Iden­ti­fied (inc. TEST)
1/1
10
Setups tak­en
0/1
10
Erro­neous Entries
0/1
10
Erro­neous Exits


50
total






Week­ly Goal

Only trade A/A+ trade ideas
For­ward test exper­i­men­tal trades

Review
Trade
Entry Errors
Exit Errors
Type Trade
Size
Rea­son to cover
Prob­lem
Pro­posed solution
-
-
-
-
-
-
-
-
-
1
0
0
HTF Squeeze CAS 1.5 SD
5
TP
Hit 2nd Target
-
-
How accu­rate was my assess­ment of mar­ket context?

Hypo 1 — 100%
Real-time analy­sis — 100%

How well did I man­age my phys­i­cal, emo­tion­al and cog­ni­tive states?

P: Did well here
E: Did well here
CS: Did well here

What's one thing you learned today?

I learned a lot about mar­ket nar­ra­tive today. Can't wait to go back and review

Positive(s)

I keep fol­low­ing my process and it has been work­ing well for me. Less is def­i­nite­ly MORE.

Negative(s)

I'm just gonna enjoy this win and come back tomor­row to review.
Feed­back?
Any ques­tions or feed­back you might have please feel free to leave a com­ment or con­tact me directly.