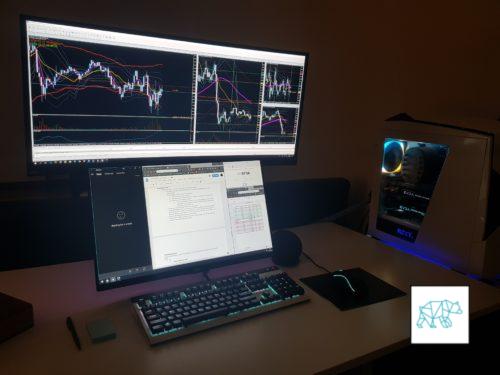 18 Apr

18042019 Thursday — Trade Plan

18042019 Thurs­day — Trade Plan HTF R TTF TT

Ter­mi­nol­o­gy (par­tial­ly made up by yours truly)
PA = Price Action
BO = Break Out
BD = Break Down
CAR = Con­firm As Resistance
CAS = Con­firm As Support
UKC = Upper Kelt­ner Channel
LKC = Low­er Kelt­ner Channel
TV = Tick Volume
WPP = Week­ly Piv­ot Point
DPP = Dai­ly Piv­ot Point
DR = Dai­ly Resis­tance (piv­ot)
DS = Dai­ly Sup­port (piv­ot)
WR = Week­ly Resis­tance (piv­ot)
WS = Week­ly Sup­port (piv­ot)
HL = High­er Low
HH = High­er High
LH = Low­er High
LL = Low­er Low
SD = Stan­dard Deviation
VWAP = Vol­ume Weight­ed Aver­age Price
AS = Asian Session
LS = Lon­don Ses­sion (EU)
NY = New York Ses­sion (US)
R/R = Risk to Reward
M2M = Move to Move
T2H = Trade to Hold
DT = DownTrend
UT = UpTrend
LTF = Low­er Time Frame
TTF = Trad­ing Time Frame
HTF = High­er Time Frame
Hypo = HYPOthetical
Health review (for the past week)
Week­ly goal
How do you feel?

I feel good although a bit tired still

How would you rate it (1–5)?
The Big Pic­ture (dai­ly)
What hap­pened yes­ter­day? Where are the tech­ni­cal levels?

Yes­ter­day we failed to break out of the high of the range that we have been since April 8th

HTF range is still in play
Move down from top of the range to just below mean
Intra­day Fundamentals
API report April 16th
EIA report April 17th

Fore­cast ‑1.200M
'Actu­al' ‑1.396M
Intra­day Tech­ni­cal Analysis
HTF

Define con­text

Where were the overnight highs and lows and PVA?

High 64.695
PVAH 64.640
PVAL 64.125
Low 63.729

Where is the LIS?
What didn't happen?

We failed to BO from High of Range and we could retest bot­tom of the range around 63.40 area with tar­gets even fur­ther down

TTF

Dialling in on opportunities

Is there a shift in value/excess migra­tion? What is the cur­rent mar­ket con­di­tion? Are we trend­ing, balancing/range bound? Where are we in the trend range axis?

HTF Range still in play. Look for TTF trends with less momentum.

What trade loca­tions among this struc­ture would l like to get involved in that will offer me the best R/R opportunities?

Hold of LIS, pos­si­ble move back towards prev high
LIS CAR HTF R TTF TC

LTF

What has the Asian Ses­sion printed?

Con­sol­i­da­tion in small range with move back up to TTF200MA
Trade Idea CL
Hypo 1 Short

Move from 63.90 into 64.10 and reverse

Hypo 2 Long

Hold 63.90 into move back to swing high

Hypo 3 TTF Range

Range between 64.10 and 63.70 dur­ing EU ses­sion to poten­tial­ly set up a move dur­ing RTH
My goals for the day (Dai­ly Report Card)
Define win­ning

Per­form well by EXECUTING play­book setups and be hap­py by doing what I love and under­stand­ing that I give myself over to the ran­dom­ness of the market
Read­ing the Tape
What is printing?

16:05

HTF

We are near HTF sup­port not quite near bot­tom of the range yet.

TTF

Pos­si­ble bot­tom with what looks like pos­si­ble absorp­tion at 63.55 area

LTF

16:35

Failed to BO from TTF UKC/VWAP mean but also have not made an effort to drop

Basi­cal­ly flat on the LTF and long-bod­ied can­dles on TTF

17:05

Slow­ly made a move high­er towards TTF50MA and might poten­tial­ly BO
Slow buy­ing pow­er no real push back by sellers

17:35

Still very slow pace not much hap­pen­ing. No real buyers/sellers com­ing in near TTF200MA. No real PB on the TTF either so we might have a move down before pos­si­bly BO from TTF200MA but we then have inter­fer­ence from HTF200MA (which is still flat)

18:05

PB to LTF200MA TTF50MA VWAP after what looks like a LTF TT and is look­ing to poten­tial­ly have a LTF NT TC

18:35

Pace is still slow and we have crossed TTF200MA but BO is not con­firmed yet as we are still with­in the KC
Trade Man­age­ment
Explain what trade you put on (include price, SL, TP) and what your thoughts are dur­ing the trade
T1

Why? What do I see?

HTF
TTF

Pos­si­ble bot­tom around 63.55 lev­el indi­cat­ed by long-bod­ied can­dles at the bot­tom of a trend near HTF sup­port area

LTF

No real LLs being made
Entry 63.637

SL
TP
Trade Man­age­ment

I feel calm
LTF is show­ing what looks like fur­ther absorp­tion around 63.60 area just above the LTF 50MA
We made a move to poten­tial BO from TTF UKC/VWAP but it also looks like we might run out of buy­ers here around the 63.68 lev­el which is just under the LTF200MA
Closed off the trade at 63.692 in profit
2nd account trade is still open

Entry 63.60
Cov­ered at 63.66
Dai­ly Report Card

Date:
4/18/2019
Week­ly Goal
Exe­cute Play­book setups
Com­bined Score
85
Process Report Card (10 each)
Per­for­mance Report Card (10 each)
7
Pre-mar­ket routines
7
Hypos
9
Ses­sion PECS
9
Real-time analy­sis
9
Trad­ing the process
10
Trade selec­tion
9
Dai­ly review
9
Trade Exe­cu­tion & Mgmt.
10
Progress toward Week­ly goal
6
Risk Adjust­ed Returns
44
Total
41
Week­ly Goal

Per­form well by EXECUTING play­book setups and be hap­py by doing what I love and under­stand­ing that I give myself over to the ran­dom­ness of the market

Review

I did well to estab­lish a pos­si­ble DT TTF TT and after con­fir­ma­tion on the LTF went long

How accu­rate was my assess­ment of mar­ket context?

Some­what accu­rate although when doing my mar­ket prep I felt as if I had lack of clar­i­ty and thought this was because I hadn't trad­ed in a while. Hypo 1 played out although start­ed before EU session

How well did I man­age my phys­i­cal, emo­tion­al and cog­ni­tive states?

I did a good job here even though I was some­what tired. No excuses.

What's one thing you learned today?

I con­firmed my feel­ing that I was using the wrong time frames for my TA and am glad I changed them

What's one thing I need to do more often?

Con­tin­ue doing the mar­ket prep

What's one thing I need to do less often?

Try­ing to look for oppor­tu­ni­ties on the LTF. TTF is where it's at.
Feed­back?
Any ques­tions or feed­back you might have please feel free to leave a com­ment or con­tact me directly.