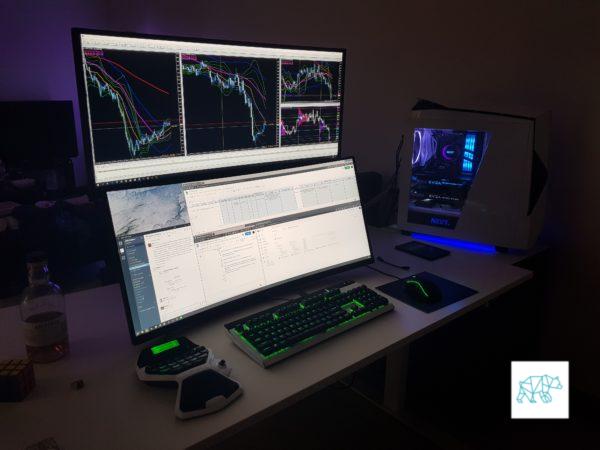 18 Jul

18072019 Thursday — Trade Plan & Journal

18072019 Thurs­day — Trade Plan & Journal

Ter­mi­nol­o­gy (par­tial­ly made up by yours truly)
PA = Price Action
BO = Break Out
BD = Break Down
CAR = Con­firm As Resistance
CAS = Con­firm As Support
UKC = Upper Kelt­ner Channel
LKC = Low­er Kelt­ner Channel
TV = Tick Volume
WPP = Week­ly Piv­ot Point
DPP = Dai­ly Piv­ot Point
DR = Dai­ly Resis­tance (piv­ot)
DS = Dai­ly Sup­port (piv­ot)
WR = Week­ly Resis­tance (piv­ot)
WS = Week­ly Sup­port (piv­ot)
HL = High­er Low
HH = High­er High
LH = Low­er High
LL = Low­er Low
SD = Stan­dard Deviation
VWAP = Vol­ume Weight­ed Aver­age Price
AS = Asian Session
LS = Lon­don Ses­sion (EU)
NY = New York Ses­sion (US)
R/R = Risk to Reward
M2M = Move to Move
T2H = Trade to Hold
DT = DownTrend
UT = UpTrend
LTF = Low­er Time Frame
TTF = Trad­ing Time Frame
HTF = High­er Time Frame
Hypo = HYPOthetical
Health review (for the past week)
Week­ly goal

Fol­low health plan
Per­form Dai­ly Tasks

How do you feel? Have you recent­ly had a break of dai­ly rou­tine (like a trip)? Did you have 2 (or more) nights of insuf­fi­cient sleep?

I feel good but not as sharp as usu­al. Which is to be expect­ed Since I slept less than 8 hours for the last 2 days. Because of this I will give myself a 3 rating.

How would you rate it (1–5)? 1/2 = don't trade 3= quar­ter posi­tion 4= half posi­tion 5= full position
Mar­ket Prep

Intraweek Fun­da­men­tals
API report

Lat­est Release Jul 16, 2019
Actu­al ‑1.401M
Pre­vi­ous ‑8.129M

EIA report

Lat­est Release Jul 17, 2019
Actu­al ‑3.116M
Fore­cast ‑2.694M
Pre­vi­ous ‑9.499M
Intra­day Tech­ni­cal Analysis
HHTF

HHTF R LKC BD to 200MA in poten­tial exhaust­ed move from UKC in the last 2 days

HTF

Prev. High 58.455
PVAH 58.455
PPOC 57.692
PVAL 57.213
Prev. Low 56.334
Poten­tial anoth­er HTF D TT but this time it looks dif­fer­ent and could be a D TC instead

TTF

What has the Asian Ses­sion printed?

Small PA range bound on HTF

What trade loca­tions among this struc­ture would l like to get involved in that will offer me the best R/R opportunities?

HTF D TC @ LKC / TTFLKCBD
Trade Idea
Hypo 1 Short

HTF D TC @ LKC
Entry around 56.80
Tar­gets 56.50, 56.35

Hypo 2 Long

HTF D TT @ VWAPCAS / TTF200MABO
Entry around 56.95
Tar­gets 57.20, 57.35, 56.65

Hypo 3 Rotational
My goals for the day (Dai­ly Report Card)
Define win­ning

Only trade A/A+ trade ideas
For­ward test exper­i­men­tal trades
Read­ing the Tape
What is printing?

HHTF200MACAS but pos­si­ble D TC @1.0 SD, HTF D TT @LKCCAS / D TC @ LKC, TTF200MACAR twice now but it could real­ly go either way. Since I have no strong sense of clar­i­ty I'm gonna look for clues and not focus on tak­ing trades.
TTF200MABO to HTF50MABO attempt
Dai­ly Report Card

Trade Idea
Hypo 1 Short

HTF D TC @ LKC
Entry around 56.80
Tar­gets 56.50, 56.35

Hypo 2 Long

HTF D TT @ VWAPCAS / TTF200MABO
Entry around 56.95
Tar­gets 57.20, 57.35, 56.65

Hypo 3 Rotational
















Date:
7/18/2019
Week­ly Goal
Exe­cute A+ (TTF TC) / A setups (TTF NT)
































Com­bined Score
89
























Process Report Card (10 each)


Per­for­mance Report Card (10 each)




9
Ses­sion PECS
70%
7
Real-time analy­sis




10
Hypos
2/2
10
Setups Iden­ti­fied (inc. TEST)




10
Mar­ket Prep
1/2
5
Setups tak­en




10
Dai­ly review
0/1
10
Erro­neous Entries




8
Progress tow. week­ly goal
0/1
10
Erro­neous Exits




47
Total


42


















Week­ly Goal

Only trade A/A+ trade ideas
For­ward test exper­i­men­tal trades

Review
Trade
Entry Errors
Exit Errors
Type Trade
Siz­ing
Rea­son to cover
Prob­lem
Pro­posed solution
1
0
0
TTF200MACAR
1
Scratched
Did not BD from LKC
-
-
How accu­rate was my assess­ment of mar­ket context?

Hypo 2 — 100%
Real-time analy­sis — 70%

I real­ized it was more prob­a­ble for either HYPO1 or 2 to play out and ini­tial­ly took a short trade based on 1 but scratched that after a lack of fol­low-through to the move. Then failed to switch gears into hypo 2 because PA wasn't as clear. Then when the 1st part of the move hap­pened I was not in it and I let it go. Did well here to not act on FOMO. There was even­tu­al­ly a 2nd leg to the move which I was not famil­iar with but have doc­u­ment­ed it for my playbook.

How well did I man­age my phys­i­cal, emo­tion­al and cog­ni­tive states?

P: I did well here although had a small dip after a meal and decid­ed to switch to a stand­ing desk to con­tin­ue. This helped.
E: Did well here.
CS: Did well here besides that dip for a lit­tle bit.

What's one thing you learned today?

That I'm get­ting bet­ter at my approach to the mar­ket how­ev­er not there yet on exe­cu­tion. Progress, not perfection.

Positive(s)

Did well to be patient and not get 'pulled into' the mar­ket and trade every­thing I see. I do my best when I am very par­tic­u­lar on which set­up I take. The set­up that fol­lows the main nar­ra­tive of the ses­sion and not short moves here and there.
Did well to not react to FOMO.
Trust that I am get­ting bet­ter in trad­ing based on the nar­ra­tive and can rid myself of all the noise and sub-par trades around this nar­ra­tive. If the move has hap­pened I am too late. Don't fol­low. Focus on learn­ing on how to catch the move. Focus on clean­ly exe­cut­ing trades just like the one I scratched based on HYPO 1. This is my job.

Negative(s)

Besides fail­ing to switch gears to hypo 2 I did great. I will replay and ana­lyze as always.
Feed­back?
Any ques­tions or feed­back you might have please feel free to leave a com­ment or con­tact me directly.