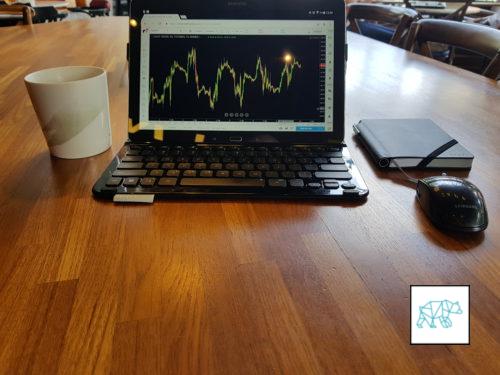 21 Sep

Daily Analysis 9/21/2017
9/21/2017 Daily Analysis
So yesterday's WTI crude oil futures trad­ing was an inter­est­ing ses­sion. Before I get start­ed on what trades I took and ask a bunch of ques­tions like 'How did they go? What could I have done bet­ter? What mind­set was I in? How was I feel­ing?'. I think I should start off by point­ing out that I am still learn­ing and all these are mere­ly my efforts to learn how to trade crude oil.
So lone­ly
I'll be mak­ing a lot of mis­takes and I'll be shar­ing all of them with you. Togeth­er with all the con­clu­sions I draw from them. Hope­ful­ly, some­one out there can learn from my mis­takes. Not sure if there is any­one out there though. Is there any­one out there?! Doesn't real­ly mat­ter does it? Learned a long time ago that look­ing for oth­ers to share your path with is just anoth­er pas­sive aggres­sive tac­tic of self-sabotage.
Choos­ing a format
Because I am doing this blog­ging and writ­ing a trad­ing jour­nal thing for the first time I'll make a lot of mis­takes. Change the for­mat, etc. Which is OK. For now, the ques­tions I asked about my trad­ing will be the for­mat I start off with. Good a start as any right?! 😉
DISCLAIMER
Click here for my dis­claimer. It basi­cal­ly says that I am on my path to becom­ing a trad­er and these are just my opin­ions on how to approach learn­ing to trade. Feel free to check it out and com­ment on it.
Here it goes…
Yesterday's analy­sis
My analy­sis from yes­ter­day was wrong. I con­clud­ed that prices could go up a lit­tle before drop­ping down. And that's not what hap­pened. Prices shot up. Way up. Luck­i­ly for me I can­celled my stop loss orders when I got the feel­ing prices would go against me. It's fun­ny if things work out fine we con­sid­er our­selves lucky or even genius. In fact it was stu­pid to have just 'hoped' for that to hap­pen. My 'gut' did say that prices would go down because they have gone up for a while now. And 'what­ev­er goes up, must go down'. Also, prices had come close to a resis­tance trend line lev­el and was over-extend­ed from the 50SMA and 200SMA.
My lucky trades
I have no illu­sions that at this point I am just hav­ing trades go my way because of luck. Most­ly. We'll see in the end if I can keep get­ting these lucky breaks to a point where I can stop call­ing them that.
Bring on the charts
At a glance on the 4H
Yet again after the release of the EIA report, prices ral­lied up to retest the 50.75 lev­el. It even went beyond it for a while and then dropped below. The can­dle where the most volatil­i­ty hap­pened formed a very neu­tral doji can­dle­stick indi­cat­ing a lot of inde­ci­sion at that lev­el. How­ev­er, after­wards prices have gone down a bit to for a sup­port lev­el at 50.65. It looks like prices have test­ed the resis­tance trend­line again and it is still los­ing momen­tum and wants to reverse. Of course only time will tell. Let's have a look at what hap­pened with the mov­ing averages.
Mov­ing averages
On the 4 hourly chart we can see that price action nice­ly fol­lowed the 20SMA from the BBs. Prices stayed in the upper part of the BBs indi­cat­ing an uptrend at the moment. Price are clos­er to the upper band though which could mean that prices would go down to reach the 20SMA at about 50.45 dol­lars. The 50SMA went up on a steep angle and prices are still pret­ty far from it. Does this mean they're over-extend­ed? I hope so. If you'd extend the 20 and 50SMA into the future, they do look like they'll meet in the near future. They look like they could meet around the 50.45 lev­el as well. Is this some kind of omen that this might be the new sup­port lev­el? Or a sim­ple math­e­mat­i­cal for­mu­la? Mag­ic prob­a­bly. Let's dive in deep­er shall we.
At a glance on the 1H
On the hourly chart we can see that there was a big strug­gle between the bulls and the bears. We see a long upper wick can­dle indi­cat­ing bulls were on the attack but the bears knocked them down. Then the bears tried to take over and push prices down but the bulls weren't hav­ing it so prices stayed in lim­bo between 50.60 and 50.70. As I am writ­ing this. I can see that prices are try­ing to push fur­ther down which would con­firm my ear­li­er sen­ti­ment. Let's see if it will be a sig­nif­i­cant drop. Go BEARS!
Mov­ing averages
The 20SMA BBs show that prices are at the mid­way point but haven't bro­ken it yet. We're going to need some more pow­er on the Bear's side to push this down. Price are3 at the mid­way point so they could go back up to the upper band if they don't break down. The 50SMA has been a good point of sup­port so let's wait and see if it will attract prices again. The 200SMA is still far on the hori­zon but could creep up if this stay bull­ish to form a hard­er sup­port area high­er in the 52 week range.
At a glance on the 15M
Here we can see that prices are try­ing to break to the down­side. That red diag­o­nal line is a trend­line that has sup­port­ed prices above it. As we can see prices have ducked under­neath so it might be a good sign. His­to­ry has taught us that looks can be deceiv­ing. It's all about the wait­ing game. Let's see what happens.
Mov­ing averages
Prices have gone under the 20SMA as well as the 50SMA. Get­ting pret­ty close to the 200SMA. Although, it seems to be sup­port­ing prices real­ly well and repelling it. Hope­ful­ly we can duck under­neath the 200SMA and start a bear run for the next week before we go back up. It's about time the mar­ket took a breather and loos­ened up. Prices are also hug­ging the low­er BB and are bounc­ing between the low­er BB and 20SMA. Let's see if we can pick up momen­tum and keep this going.
CONCLUSION
There are good signs that price are look­ing for a momen­tary rever­sal to ini­ti­ate the pull­back even more after such a steep ral­ly. There were some moments where peo­ple were tak­ing prof­its from their long posi­tions that made prices duck a lit­tle but I feel we are due for a big­ger bear­ish move even though prob­a­bly very short-lived.