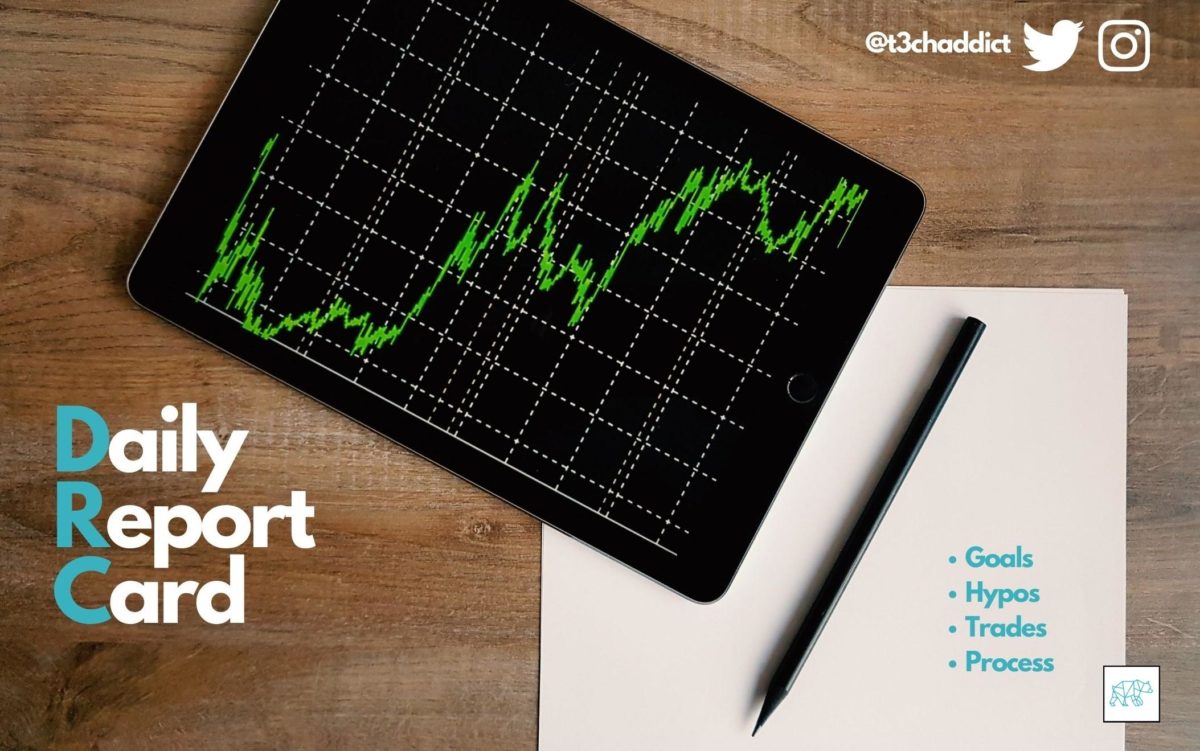 02 Mar

How did I trade today? 20220302

A small sum­ma­ry of how I did dur­ing the ses­sion. Things I did well. Things I need to keep work­ing on. Trade Reviews are part of my post-mortem but usu­al­ly I post those the next day.

My week­ly goals:
Trad­ing rules

Use SL scal­ing in case the prof­it tar­get for the set­up doesn't pro­vide 2R for exam­ple for FA or VAA setups
No ear­ly exits, either hit SL or target
1–3 (3 being good)
2 Pre-mar­ket routines
2 Ses­sion PECS
3 Clar­i­ty — in tune with price
---
DAX — What Mar­ket Nar­ra­tive Played Out? (Keep it short!)
Price extend­ed IB to the upside dur­ing D TPO and sus­tained the auction
Gold — What Mar­ket Nar­ra­tive Played Out? (Keep it short!)
C TPO extend­ed below IB and entered short on a pull­back to IB low
When price dove deep­er into IB I cut half of pre­vi­ous posi­tion and entered anoth­er short to get a bet­ter entry price. I made a mis­take to go in with a full posi­tion so I need to cut that in half as well.
Trade hit tar­get 1.2R. Will review tomorrow.
Did I take advan­tage of any opportunities?
DAX

Due to the open sen­ti­ment and rel­a­tive dis­tance to the val­ue edge I did not take a sus­tained auc­tion trade off break of IB dur­ing D TPO

Gold

When D TPO extend­ed below I wait­ed for a pull­back and entered short. I did fum­bled with the siz­ing after I decid­ed to half the posi­tion and add for a bet­ter entry when price pulled back deeper.
Trade hit target.
For‌ ‌my‌ ‌trade‌ ‌plan(s)‌ ‌on‌ ‌this‌ ‌particular‌ ‌day,‌ ‌go‌ ‌here:‌ ‌