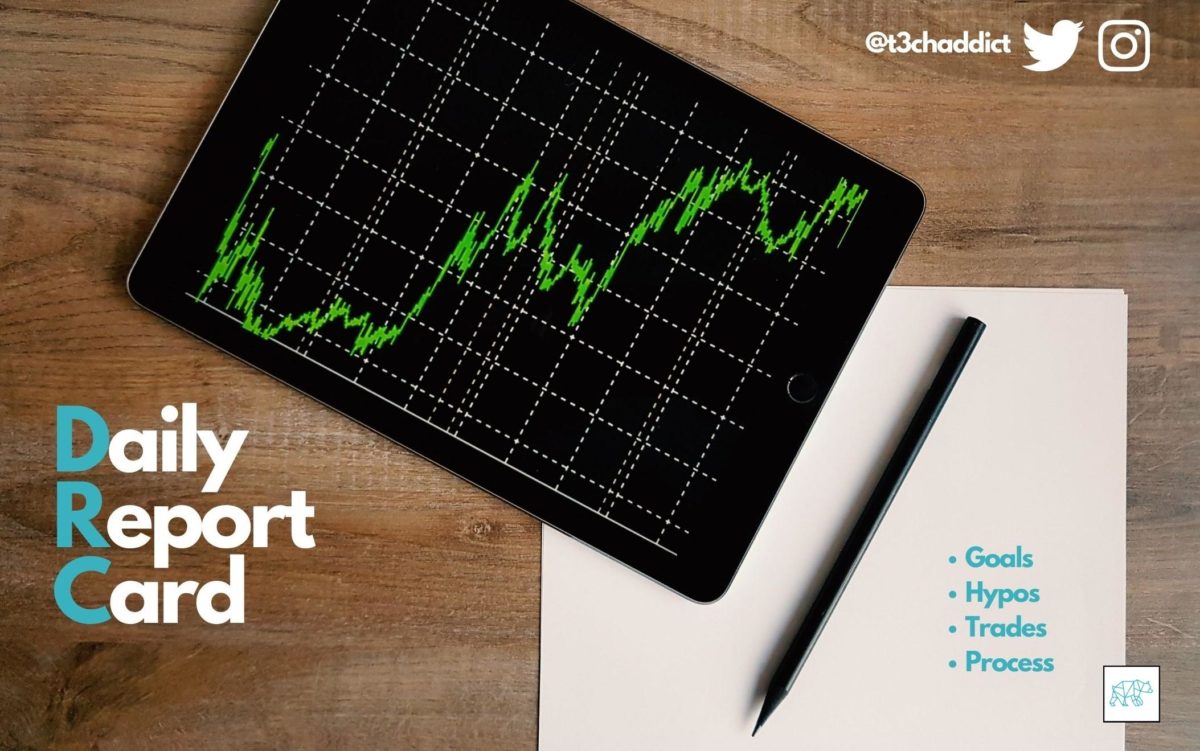 15 Mar

How did I trade today? 20220315

#fin­twit #order­flow #day­trad­ing #dai­lyre­port­card #trad­inglifestyle #day­trader­life #trad­ing­forex #trad­ing­com­modi­ties #NEXT

A small sum­ma­ry of how I did dur­ing the ses­sion. Things I did well. Things I need to keep work­ing on. Trade Reviews are part of my post-mortem but usu­al­ly I post those the next day.

My week­ly goals:
Trad­ing rules

Use SL scal­ing in case the prof­it tar­get for the set­up doesn't pro­vide 2R for exam­ple for FA or VAA setups
No ear­ly exits, either hit SL or target
1–3 (3 being good)
3 Pre-mar­ket routines
1 Ses­sion PECS
1 Clar­i­ty — in tune with price
---
DAX — What Mar­ket Nar­ra­tive Played Out? (Keep it short!)
M30 DBD extend­ed slight­ly down in C but clos­ing with­in IBR
D made a LL. I expect­ed some push­back first to get a bet­ter entry price but it seems I might have missed the trade. I was also think­ing that I have seen before a sim­i­lar move fail­ing to sus­tain the auc­tion. Let's see what prints
Price is slow­ly tak­ing out the gap from Mon­day open
D closed low­er, then E closed as an inside bar (ham­mer) poten­tial for continuation
F retraced to IB Low and M15 closed with­in, could be a 2nd DTTZ quick oppor­tunis­tic move before a pos­si­ble sus­tained auction
I tried to go long when M15 test­ed new­ly formed demand but FX syn­er­gy gave me an error mes­sage "Invalid Price" so I did not get in. Annoyed. Gonna sit the rest of the ses­sion out as I also seem to lack clar­i­ty in the unfold­ing narrative.
Gold — What Mar­ket Nar­ra­tive Played Out? (Keep it short!)
C extend­ed slight­ly below IBR but then closed high­er as a consolidation
Con­sol­i­da­tion continued
F tried to duck below but closed with­in IBR again
Did I take advan­tage of any opportunities?
DAX

I let the exten­sion to the down­side go as I was doubt­ing the trade. In hind­sight I was proven right.
When I tried to go long FX syn­er­gy stopped me from enter­ing on a trade.

Gold

There was no good oppor­tu­ni­ty in Gold
Although when Dax popped high­er I looked to per­haps go short on Gold but it had moved away from entry already.
No trades today. Which is okay.
For‌ ‌my‌ ‌trade‌ ‌plan(s)‌ ‌on‌ ‌this‌ ‌particular‌ ‌day,‌ ‌go‌ ‌here:‌ ‌