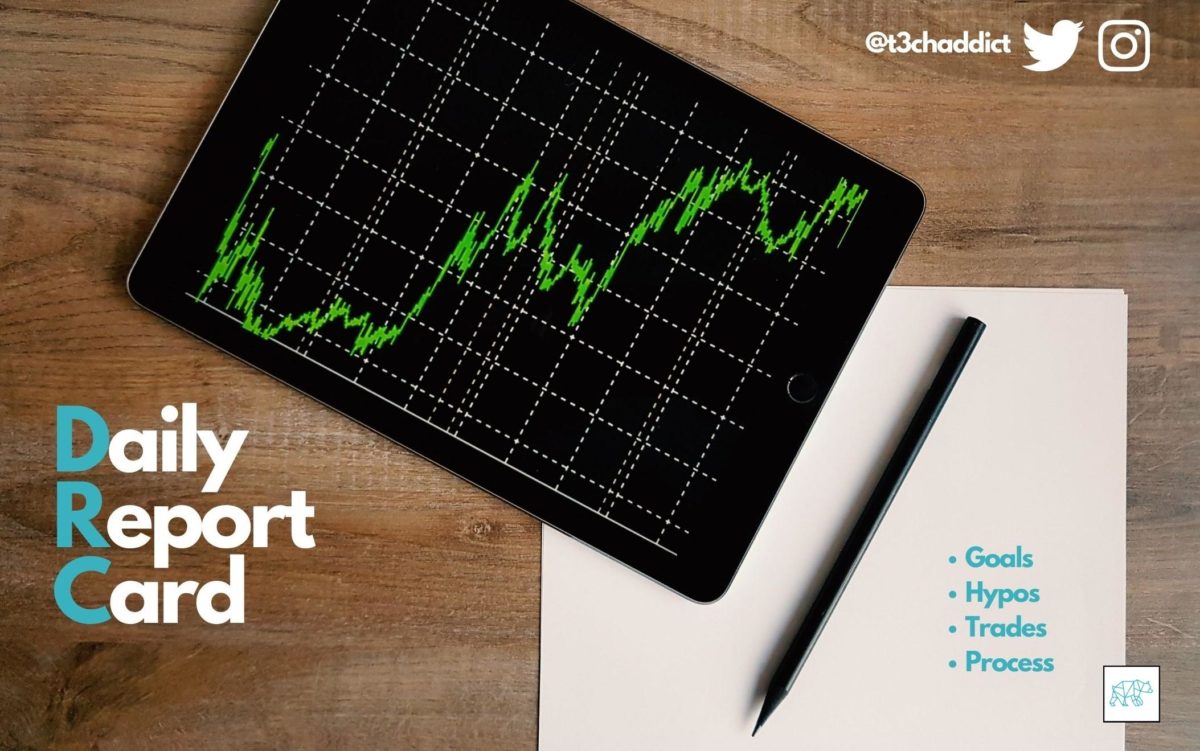 14 Apr

How did I trade today? 20220414

#fin­twit #order­flow #day­trad­ing #dai­lyre­port­card #trad­inglifestyle #day­trader­life #trad­ing­forex #trad­ing­com­modi­ties #NEXT

A small sum­ma­ry of how I did dur­ing the ses­sion. Things I did well. Things I need to keep work­ing on. Trade Reviews are part of my post-mortem but usu­al­ly I post those the next day.

My week­ly goals:
Trad­ing rules

Use SL scal­ing in case the prof­it tar­get for the set­up doesn't pro­vide 2R for exam­ple for FA or VAA setups
No ear­ly exits, either hit SL or target
1–3 (3 being good)
2 Pre-mar­ket routines
1 Ses­sion PECS
1 Clar­i­ty — in tune with price
---
DAX — What Mar­ket Nar­ra­tive Played Out? (Keep it short!)
Failed Auc­tion with C clos­ing with­in IB
Went short as per Hypo 1
this was the wrong call. The bet­ter hypo was hypo 3
Gold — What Mar­ket Nar­ra­tive Played Out? (Keep it short!)
D closed below VAL and then extend­ed IB to the down­side in E and closed near it's low
F closed as an Inside bar and I went in for a pos­si­ble con­tin­u­a­tion as there was no pull­back to IB low
When I saw there was con­tin­u­a­tion and the play was to the long side I cut my loss­es and quick­ly reversed. This luci­ly hit the tar­get sav­ing some of my day.
Did I take advan­tage of any opportunities?
DAX

Short as per hypo 1
Got stopped out ‑1R

Gold

Risky short as per hypo 3
Exit­ed the trade for ‑0.8R
Then reversed the trade and trade hit 1.2R
Down on the day ‑0.6R
Things I did well:
Revers­ing the trade on Gold was well Golden 🙂
Things I need to keep work­ing on:
Don't lis­ten to upbeat music when trad­ing. It makes me too hyper and I'm sit­ting here as some kind of DJ eager to press some buttons.
I failed to plot the new D1 demand on my chart in the begin­ning oth­er­wise I would've noticed it coin­cid­ed with VAH.
I went short with not much of a prof­it tar­get = no good trade
Will review heav­i­ly tomor­row. No trad­ing tomor­row as the mar­kets are closed so can focus more on this.
For‌ ‌my‌ ‌trade‌ ‌plan(s)‌ ‌on‌ ‌this‌ ‌particular‌ ‌day,‌ ‌go‌ ‌here:‌ ‌