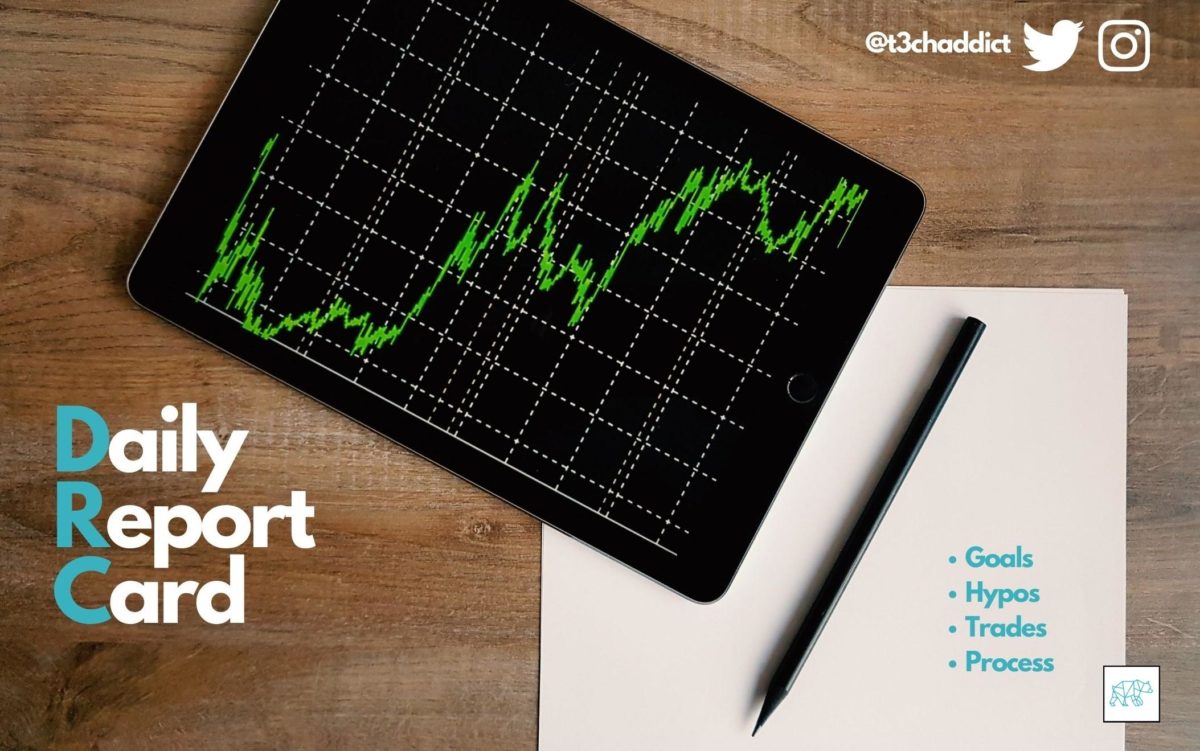 05 Aug

How did I trade today? 20210805

Sum­ma­ry: Keep in mind the right strat­e­gy for the right conditions

#fin­twit #order­flow #day­trad­ing #dai­lyre­port­card #trad­inglifestyle #day­trader­life #grasshop­per­sanony­mous #trad­ing­forex #trad­ing­com­modi­ties #NEXT

A small sum­ma­ry of how I did dur­ing the ses­sion. Things I did well. Things I need to keep work­ing on. Trade Reviews are part of my post-mortem but usu­al­ly I post those the next day.

My week­ly goals:
Min. 3 times work­ing out at home + manda­to­ry cardio
Trad­ing rules

M15/M30 entries and exits at 1st DTTZ, M5 entries and exits at 2nd DTTZ
Use SL scal­ing in case the prof­it tar­get for the set­up doesn't pro­vide 2R for exam­ple for FA or VAA setups

No social media / mes­sen­ger apps / phone calls allowed dur­ing the trad­ing window
Good Pre-mar­ket routines
Good Ses­sion PECS
Fair Trade selection
Fair Trade siz­ing or SL placement
Fair Trade Exe­cu­tion & Mgmt.
Good Risk Adjust­ed Returns
Yes Dai­ly review
Mup­pet Meter (1 being best — 5 being worst): 2
---
Notes
DAX
IB Trad­ed high­er above VAH, C closed slight­ly high­er but no break of IB
Buy Stop Order 15728, SL 15698, TP (2R) 15788
Buy Stop Order trig­gered, mon­i­tor­ing for a bull­ish close sus­tain­ing the auc­tion. Could poten­tial­ly be a low ini­tia­tive activ­i­ty day
D closed bull­ish but with­in IBR, mon­i­tor­ing for a HH in E.
E closed as a Bear Engulf and I took trade off at ‑0.7R
I wait­ed for a pull­back to new­ly formed M30 sup­ply and went short
Short 15710.80, SL 15730.30, TP 15672
When Price hit H1 demand and M5 LKC after a Break down I took prof­it at 1.2R

Also M30 demand at at VAH thought it could bounce from here.
---
How well did I man­age my phys­i­cal, emo­tion­al and cog­ni­tive states?
I did well for the most part although I did get a bit jumpy as I was los­ing con­fi­dence in the long trade. I walked away and focused on look­ing back in at 15 minute inter­vals. This helped. Start­ed lift­ing some weights as well.
What did I learn today?
I learned that I should not have used a momen­tum based entry on an open inside day.
What's one (or more) thing(s) I need to do more often?
Take trades
What's one (or more) thing(s) I need to do less often?
Take momen­tum trades on open inside day
Under the cir­cum­stances, did I per­form at my best?
I did okay. Screwed up on the first trade but then col­lect­ed myself and under­stood what was actu­al­ly going on. Wait­ed for a bet­ter entry and took my shot. All I can ask for.
For my trade plan(s) on this par­tic­u­lar day, go here: