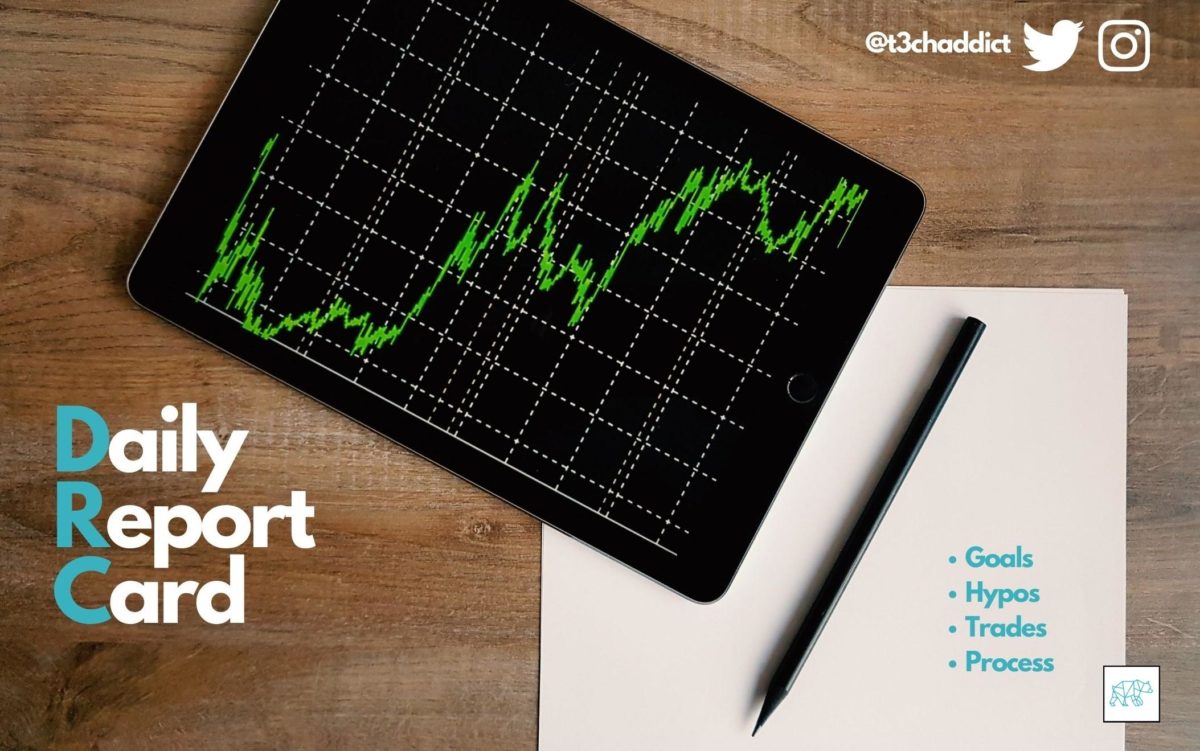 25 Aug

How did I trade today? 20210825

Sum­ma­ry: Keep com­ing back

#fin­twit #order­flow #day­trad­ing #dai­lyre­port­card #trad­inglifestyle #day­trader­life #grasshop­per­sanony­mous #trad­ing­forex #trad­ing­com­modi­ties #NEXT

A small sum­ma­ry of how I did dur­ing the ses­sion. Things I did well. Things I need to keep work­ing on. Trade Reviews are part of my post-mortem but usu­al­ly I post those the next day.

My week­ly goals:
Min. 3 times work­ing out at home + manda­to­ry cardio
Trad­ing rules

M15/M30 entries and exits at 1st DTTZ, M5 entries and exits at 2nd DTTZ
Use SL scal­ing in case the prof­it tar­get for the set­up doesn't pro­vide 2R for exam­ple for FA or VAA setups

No social media / mes­sen­ger apps / phone calls allowed dur­ing the trad­ing window
Good Pre-mar­ket routines
Good Ses­sion PECS
FAIR Trade selection
Good Trade siz­ing or SL placement
Good Trade Exe­cu­tion & Mgmt.
BAD Risk Adjust­ed Returns
NO Clar­i­ty — in tune with price
Mup­pet Meter (1 being best — 5 being worst): 3
---
Notes
DAX
Asia and FF trad­ed high­er so did IB so the like­li­hood for a move low­er becomes more like­ly. Per­haps a move down first accord­ing to Hypo 3 then a Hypo2 Auc­tion Fade Long.
C accept­ed val­ue and closed below IB.
E closed low­er and val­ue got rotat­ed through although price is slow­ing down at new­ly formed H4 demand
Buy­ing tail in F devel­op­ing, M5 bull­ish inside bar tran­si­tion to Three Out­side Up
Long 15891.20, SL 15876.20, TP 15921.20
Wait­ing for a tran­si­tion to M15 Bull­ish Inside Bar or per­haps even a Bull Engulf
This didn't come quite. Almost a bull­ish inside bar but it is more an inside bar with longer sell­ing wick. I am giv­ing it anoth­er M15 to see if it turns into a Three Out­side Up.
This didn't come instead a base was formed so decid­ed to wait anoth­er M15.
My stop got tak­en out ‑1R.
---
How well did I man­age my phys­i­cal, emo­tion­al and cog­ni­tive states?
I did well here.
Clar­i­ty
I think my clar­i­ty was off as I fell I was a bit stuck to my bias for a rever­sal. Nonethe­less, I took a chance and it didn't work. More on this in my review tomorrow.
What did I learn today?
I learned that if the prof­it tar­get is sub­par the whole set­up is subpar.
What's one (or more) thing(s) I need to do more often?
Take chances. Make mis­takes. Learn.
What's one (or more) thing(s) I need to do less often?
Care about any one trade. Which I did fine with actu­al­ly. I did not care. Which is good.
Under the cir­cum­stances, did I per­form at my best?
I did okay today. Reaf­firmed some rules again. On to the next.
For my trade plan(s) on this par­tic­u­lar day, go here: