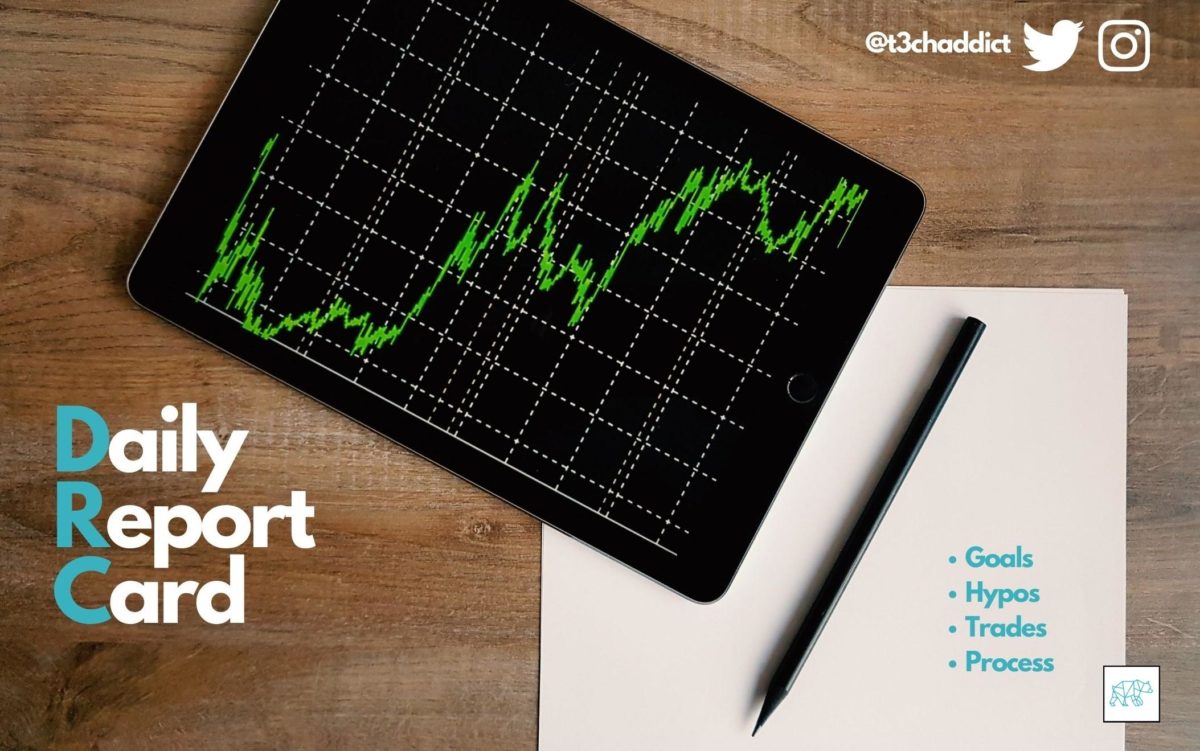 23 Mar

How did I trade today? 20220323

#fin­twit #order­flow #day­trad­ing #dai­lyre­port­card #trad­inglifestyle #day­trader­life #trad­ing­forex #trad­ing­com­modi­ties #NEXT

A small sum­ma­ry of how I did dur­ing the ses­sion. Things I did well. Things I need to keep work­ing on. Trade Reviews are part of my post-mortem but usu­al­ly I post those the next day.

My week­ly goals:
Trad­ing rules

Use SL scal­ing in case the prof­it tar­get for the set­up doesn't pro­vide 2R for exam­ple for FA or VAA setups
No ear­ly exits, either hit SL or target
1–3 (3 being good)
3 Pre-mar­ket routines
3 Ses­sion PECS
1 Clar­i­ty — in tune with price
---
DAX — What Mar­ket Nar­ra­tive Played Out? (Keep it short!)
C and closed below IBR
Dur­ing D M15 closed as a Bull Engulf tech­ni­cal­ly fail­ing the auc­tion so I went long
After see­ing Gold accept­ing val­ue I cut the trade for 0.4R
Gold — What Mar­ket Nar­ra­tive Played Out? (Keep it short!)
C extend­ed and closed above IB but as an invert­ed ham­mer, pos­si­ble continuation
Tried going long even though price was near VAL and there was no accep­tance (yet). Price was trad­ing at the bot­tom of the range with an uptrend 2/3 I think it was okay. Sad­ly FX syn­er­gy messed up so I let the trade.
When M15 closed with­in val­ue I con­sid­ered anoth­er long but due to being too close to D1 sup­ply (even though D1 is con­sol­i­dat­ing I decid­ed to let the trade go fear­ing too lit­tle prof­it margin.
Did I take advan­tage of any opportunities?
DAX

I took a quick trade on DAX but when I saw the nar­ra­tive unfold­ing on Gold I decid­ed to take the trade off ear­ly. Which was the right call. Although an even bet­ter call would've been not to take that trade at all and focus on the short side as Gold was direc­tion­al­ly long.
D1 demand was in the way although deep with­in val­ue as well as being high in the dis­tri­b­u­tion curve. Price closed deep­er into val­ue and there was no re-test of VAH from the inside for a VAA setup.

Gold

I tried going long but couldn't get filled. I have since cleared the error in my trad­ing soft­ware so hope­ful­ly it won't hap­pen again.
Things I did well:
Stay­ing focused and objective
Things I need to keep work­ing on:
Keep stay­ing focused and unbi­ased. Let the price and pro­file guide your deci­sion-mak­ing. I will review this tomorrow.
For‌ ‌my‌ ‌trade‌ ‌plan(s)‌ ‌on‌ ‌this‌ ‌particular‌ ‌day,‌ ‌go‌ ‌here:‌ ‌