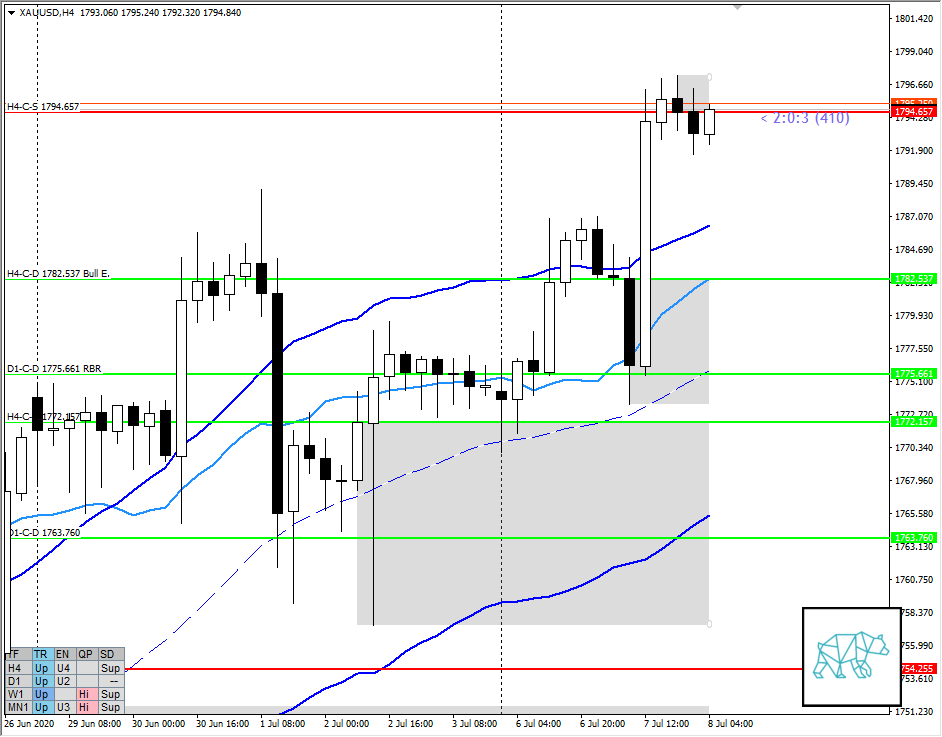 08 Jul

Premarket Prep Gold XAUUSD 07082020

#pre­mar­ket­prep #trad­ing­forex #forex #XAUUSD #GOLD #day­trad­ing #trad­inglifestyle #day­trader­life

This is my pre­mar­ket prep for today's Euro­pean ses­sion for Gold XAUUSD. This prep builds off of my week­ly trade plan I made here:
The pur­pose of a pre­mar­ket prep is to find setups with­in my week­ly trade plan bias.
Non-con­jec­ture obser­va­tions of the market
Con­tin­u­a­tion of D1-C‑D 1775.661 RBR after test­ing its conterminous
H4-C‑D 1782.537 Bull E. formed with big Bull Engulf into con­sol­i­da­tion with H4-C‑S 1794.657
Mar­ket Profile

Broke over­all mar­ket brack­et­ing range to the upside
Mul­ti-day brack­et­ing break out
Cur­rent­ly con­sol­i­dat­ing far above VAH + range. Needs fur­ther assess­ment at open.
Com­pared against Week­ly Trad­ing Plan
D1 still above UKC and VWAP
Deep­er into Week­ly Sup­ply near­ing tak­ing it out
Sen­ti­ment — Bullish
ZOIs for Pos­si­ble Shorts
ZOIs for Pos­si­ble Long
H4-C‑D 1782.537 Bull E.
D1-C‑D 1775.661 RBR
H4-C‑D 1772.157
Focus Points for trad­ing development
Week­ly Goal

Cor­rect posi­tion sizing
Trades pri­or­i­ty: 1) let mar­ket pro­file guide 2) M30 con­fir­ma­tion (watch out for 'Bil­ly No Mates')

Risk Man­age­ment

Only take 2 trades a day but only have 1 active trade on between the assets
Only trade off M30 candles
Trad­ing Priority

FX pair out­side value
FX pair inside > Gold
2+R prof­it dur­ing LN con­sid­er trad­ing PNYC

After 4 los­ing trades reduce TP to 1.5R but after 1R can con­sid­er tak­ing profits