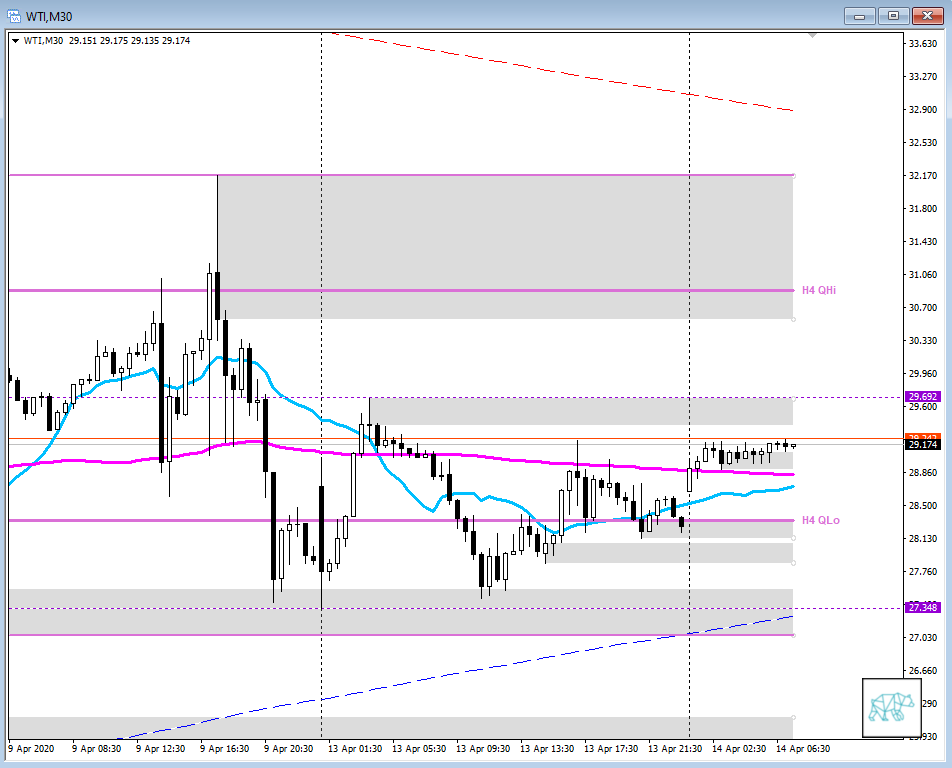 14 Apr

Trading Plan Crude Oil 04142020

These are my hypo­thet­i­cals for today's crude oil ses­sion. Basi­cal­ly the lev­els that I will be look­ing at where it has a high­er prob­a­bilis­tic chance the mar­ket will start react­ing. Then I come up with ways I think the mar­ket will react around those lev­els. Dur­ing the ses­sion I then wait for the mar­ket to hit those lev­els and either con­firm or reject my hypoth­e­sis. I hope that makes sense. If not, please get in touch with me. I am not sell­ing you any­thing. I just love to talk to peo­ple that are on the same path as me. So don't be shy and reach out. If any of the ter­mi­nol­o­gy isn't com­mon to you that's because I made them up. I'm pleased to share them with you though. Again, don't be shy. Get in touch.


Obser­va­tions of the market

W: Overex­ten­sion to the down­side but no HL made yet so we could see more down­side on the medi­um to long term
D: D TT with price con­sol­i­dat­ing above VWAP bu7t below LKC. I fwe can hold above 32.10 I would be bull­ish to 36.50. If not we can see a drop to 25.65, with an extend­ed price tar­get of 20.55.
H4: H4 was in D TT and has bro­ken out from VWAP try­ing to pull the mar­ket bull­ish but is run­ning into the 200MA. Still look­ing very bull­ish for the short to medi­um term since we clear­ly stayed above the 50MA indi­cat­ing some momen­tum behind the move. Fur­ther­more VWAP is flat but price is trad­ing around it indi­cat­ing a con­sol­i­da­tion in process.
M30: Clear­ly show­ing a range where price has reject­ed sup­port twice but no rejec­tion of Resis­tance yet indi­cat­ing pos­si­bil­i­ty for more upside. Small­er trad­er price action just below UKC in line with more con­sol­i­da­tion before a poten­tial mar­ket move. Due to East­er hol­i­days the EIA report will come out tomor­row instead of today so let's wait and see if the mar­ket wants to make a move today.
Hypo­thet­i­cals

(In order of what I think has a high­er probability)

Hypo1:
M30 Range BO Attempt
Entry LONG if we can hold above 29.25, tar­get 29.60

Hypo2:
M30 Range BO F — Range overextension
Entry Short around 29.40, tar­get 29.10, 28.90, extend­ed tar­get 28.70

Hypo3:
Range 28.90 — 29.30