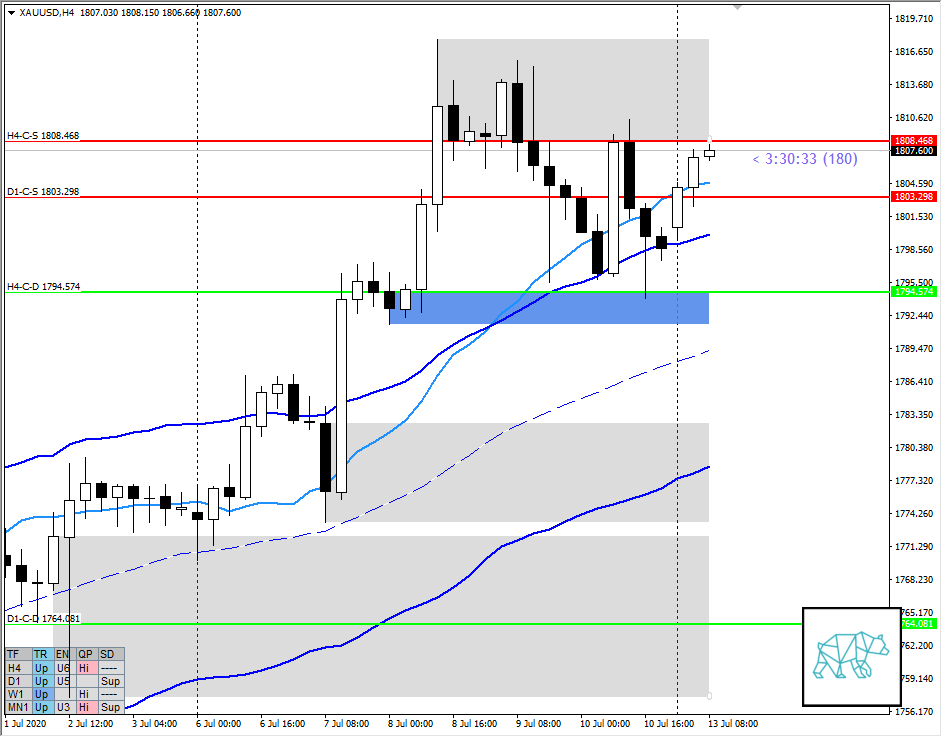 13 Jul

Premarket Prep Gold XAUUSD 07132020

#pre­mar­ket­prep #trad­ing­forex #forex #XAUUSD #GOLD #day­trad­ing #trad­inglifestyle #day­trader­life

This is my pre­mar­ket prep for today's Euro­pean ses­sion for Gold XAUUSD. This prep builds off of my week­ly trade plan I made here:
The pur­pose of a pre­mar­ket prep is to find setups with­in my week­ly trade plan bias.
Non-con­jec­ture obser­va­tions of the market
No move away from Dai­ly sup­ply, instead mov­ing with­in it
Just below H4-C‑s 1808.468
Mar­ket Profile

Cur­rent­ly with­in value
Com­pared against Week­ly Trad­ing Plan
Trad­ing above last week's candle's body
Sen­ti­ment — Neutral
ZOIs for Pos­si­ble Shorts
W1-C‑S 1855.184
H4-C‑S 1808.468
D1-C‑S 1803.298
ZOIs for Pos­si­ble Long
H4-C‑D 1794.574
D1-C‑D 1764.081
W1-C‑D 1729.488
D1-C‑D 1727.231
Mind­ful Trading
Feel­ing bet­ter. Decid­ing to go Keto is not the right move for me right now. Instead I decid­ed to incor­po­rate health­i­er choic­es as my way for­ward (for the time-being). It's not that I don't believe in Keto. It's just that trad­ing comes 1st for me and the way I have been feel­ing after start­ing keto is just awful. I need to pre­pare bet­ter if I want to start doing keto again. Pre­pare the things I need in advance. Today, I feel fair­ly good so let's see how I'll do dur­ing the session.
Focus Points for trad­ing development
Week­ly Goal

Cor­rect posi­tion sizing
Trades pri­or­i­ty: 1) let mar­ket pro­file guide 2) M30 con­fir­ma­tion (watch out for 'Bil­ly No Mates')

Risk Man­age­ment

Only take 2 trades a day but only have 1 active trade on between the assets
Only trade off M30 candles
Trad­ing Priority

FX pair out­side value
FX pair inside > Gold
2+R prof­it dur­ing LN con­sid­er trad­ing PNYC

After 4 los­ing trades reduce TP to 1.5R but after 1R can con­sid­er tak­ing profits