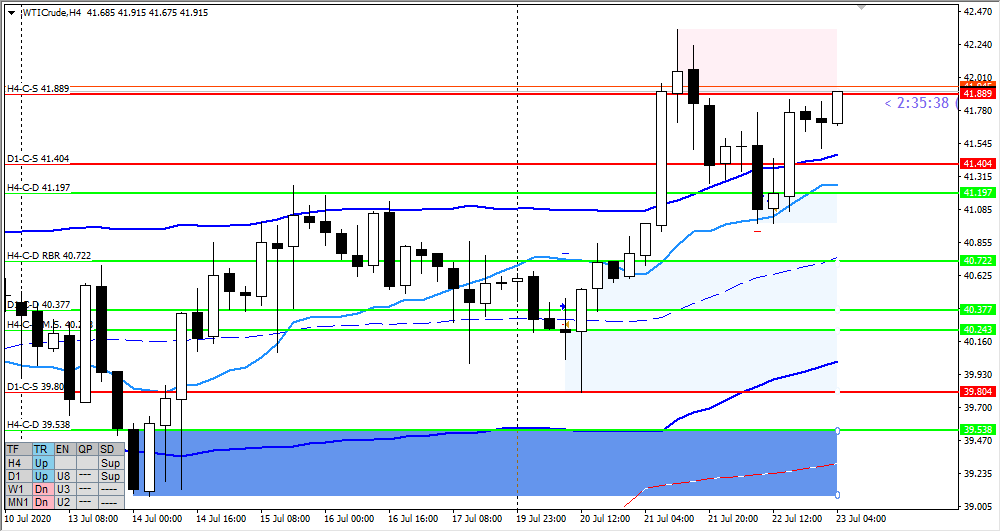 23 Jul

Premarket Prep WTI 07232020

#pre­mar­ket­prep #trad­ing­forex #forex #WTI #BLACKGOLD #CRUDEOIL #CRUDE #CRUDEOILISSLIPPERY #day­trad­ing #trad­inglifestyle #day­trader­life

This is my pre­mar­ket prep for today's Euro­pean ses­sion for WTI crude oil. This prep builds off of my week­ly trade plan I made here:
The pur­pose of a pre­mar­ket prep is to find setups with­in my week­ly trade plan bias.
Non-con­jec­ture obser­va­tions of the market
D1 trad­ed above pre­ced­ing day but still with­in D1 sup­ply D1-C‑S 41.404
H4 drop con­sol­i­da­tion drop, try­ing to duck under D1-C‑S 41.404 we had an inside bar and con­se­quent move up (cre­at­ing new demand H4-C‑D 41.197) to H4-C‑S 41.889 where price start­ed con­sol­i­dat­ing underneath
Mar­ket Profile

Tues­day big up day break­ing pre­vi­ous range
Yes­ter­day reject­ed val­ue to the down­side but then pro­ceed­ed to trade up again
Price cur­rent­ly above VAH, start­ed 17 ticks above val­ue pro­ceed­ed to about 50 presently
Com­pared against Week­ly Trad­ing Plan
Trad­ing above larg­er time frame range
Sen­ti­ment — Slight­ly Bullish
ZOIs for Pos­si­ble Shorts
H4-C‑S 41.889
D1-C‑S 41.404
ZOIs for Pos­si­ble Long
H4-C‑D 41.197
H4-C‑D RBR 40.722
D1-C‑D 40.377
H4-C‑D M.S. 40.243
Mind­ful Trading
Slept light but I feel okay.
Focus Points for trad­ing development
Week­ly Goal

Cor­rect posi­tion sizing
Have cor­rect SL placement
Due to sum­mer time I will focus on trad­ing off new­ly formed SD ZOIs for intra­day plays. Keep­ing in mind that due to lack of liq­uid­i­ty 2nd chance entries can give bet­ter R/R using the M30/M15 rule.

Risk Man­age­ment

Only take 2 trades a day but only have 1 active trade on between the assets
Only trade off M30 candles
Trad­ing Priority

FX pair out­side value
FX pair inside > Gold
2+R prof­it dur­ing LN con­sid­er trad­ing PNYC

After 4 los­ing trades reduce TP to 1.5R but after 1R can con­sid­er tak­ing profits
2 con­sec­u­tive days of lack of sleep = NO TRADING